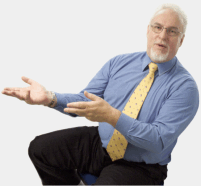 I have over 30 years management and training experience in the private, public and voluntary sectors in the UK. I have helped many organisations to develop their key people, especially their first line managers and customer facing staff. I am passionate about managers getting the most out of their staff and staff getting their customers passionate about their organisation!
It is very easy to waste money on training and development. Over the years I have witnessed thousands of pounds being wasted using trainers and course designs that were not up to the job. I am a firm believer in practical, enjoyable and common sense training that is backed up by a personal guarantee.
Before setting up my own business in 1992 I spent 5 years as a Senior Tutor at the BT Management College followed by 7 years as a Team Leader and Senior Consultant (and founding member) of BT's Management Consultancy Division.
The key areas of management and customer service that I have interest and expertise in are:
New Manager Training - Exciting and confidence building training workshops for new managers (for blue chip companies and government departments), every year since 1980.
Customer Service Skills - I have devised and run innovative and stimulating training programmes for customer facing staff and management teams, every year since 1985.
Influencing Skills - Powerful and focused public speaking, negotiation, facilitation and consultancy skills workshops for managers at all levels, every year since 1987
Interviewing Skills - Highly practical and incisive recruitment and assessment programmes for private and public sector organisations, every year since 1980.
Team Building - Facilitated highly interactive and enjoyable team building events and team working workshops, every year since 1987.
Conference Speaking - Delivered (with the input of conference and exhibition organisers) a range of inspiring and energising conference talks, every year since 1989.
Coaching and Mentoring - My relationships with clients can go beyond the training experience itself. Trained counsellor. Devised and run coaching, counselling and mentoring courses every year since 1986.
Accreditations and Memberships
I am an accredited practitioner for the Margerison-McCann Team Management System (TMS), the DDI Performance Management Programme and the Herrmann Brain Dominance Instrument (HBDI).
My professional and trade memberships include:
Chartered Institute of Personnel & Development (AM/CIPD)
Education Supporter of the British & International Golf Greenkeepers Association
Affiliate Member of Grounds Management Association
Management and Communication Expert at Golf Business International
Licensed Political Intelligence Trainer (Office and Workplace Politics)

© 2020 Frank Newberry.
All rights reserved. This material may not be copied published to other media or rewritten in any form without written permission. Use of this site signifies your agreement to the
terms of use.
...