Since the GTC's inception Frank Newberry has been the main provider of specialist communications skills for golf course managers in the United Kingdom. Over the past 15 years Frank has assisted numerous individuals to develop these key skills and has gained an excellent reputation with his entertaining and effective training programmes.
The GTC is golf's independent advisory service helping golf club employers and golf greenkeepers on matters relating to education, training and qualifications.

To assist with the implementation of vocational qualifications the GTC has trained over 1000 Course Managers / Deputies as work-based assessors and this has led to a huge increase in greenkeepers being registered on formal qualifications.
Employers are also "buying in" to the concept of work-based training as they see well-motivated workforce produces improved playing surfaces. Many employers have linked salaries to qualifications and some mature greenkeepers are achieving nationally recognised qualifications for the first time in their lives!
Other countries using the GTC in an advisory capacity have now mirrored the structure developed by the GTC for greenkeeper training in the U.K.
The highly acclaimed training manual as an example has been translated into French & German.
The GTC has to keep "ahead of the game" by ensuring it can provide the correct up to the minute advice to any golf club employer or greenkeeper who contacts them at its headquarters Aldwark Manor, Alne, Nr York, England. Visit
www.the-gtc.co.uk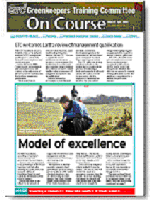 In identifying the Golf Course Manager as the key worker on the course the GTC has invested in ensuring they have not only agronomic ability to maintain the course but the necessary communication skills to also manage the site.
The main provider of this specialist communication training is Frank Newberry who over the last 15 years has assisted numerous individuals to develop their communication skills and has gained an excellent reputation by his entertaining and effective training programmes' says David F.Golding GTC Education Director.

© 2020 Frank Newberry.
All rights reserved. This material may not be copied published to other media or rewritten in any form without written permission. Use of this site signifies your agreement to the
terms of use.
...