Since 1989 the British and International Golf Greenkeepers Association (BIGGA) has engaged Frank Newberry to give inspirational talks at their national and regional conferences and seminars. He trains industry officials and golf greenkeepers in communication skills, personal presentation and personal effectiveness. In recent years he and fellow trainer Brin Bendon have been heavily involved with BIGGA in developing a Careers Fair and Career Counselling Service at the annual BIGGA Turf Management Exhibition (BTME). This facility has become a major benefit for members attending the show.
BIGGA has established itself as a leading body within the golf industry. It is dedicated to the continuing professional development of its members and in serving their needs strives through education and training for standards of excellence in golf course management throughout the greenkeeping profession.

Every year BIGGA expands the comprehensive and varied range of subsidised education and training programmes it offers its members. Every January it runs the largest and most exciting exhibition in the sports turf industry, called 'BTME and Clubhouse'. To meet the increasing needs and expectations of its members BIGGA has to provide new and innovative programmes that will be run by trainers and conference speakers of the highest calibre.
BIGGA has engaged Frank Newberry as an inspiring conference speaker, a careers counsellor and as a management and communication skills trainer every year since 1989. By working closely with Frank and Brin BIGGA has transformed the Careers Fair into a key feature of the show, offering a vital service not only to ambitious students and greenkeepers, but also employers from golf clubs and the turf trades together with educators from a range of colleges and universities. This once quiet corner of the exhibition has become a popular focal point of activity and interest.
Careers Service Example
A young greenkeeper hoping one day to undertake a degree course in the USA within minutes of his careers consultation with Frank was talking with a representative of a university in the USA visiting the Careers stand himself to look at British CV styles. Another greenkeeper looking to kick start a bid to advance his career took Frank's advice literally and landed his dream job (see last Archive entry in the
Journal page
of this site).
Training Examples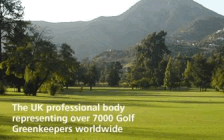 Every year Frank trains BIGGA members to speak confidently and persuasively to golf club committees and members meetings. Following this training he provides developmental opportunities by inviting BIGGA members to speak at conferences that he himself addresses. Frank, a Golden Key member of BIGGA i.e. a sponsor, is regularly seen at national and regional BIGGA seminars promoting BIGGA and providing further coaching, support and feedback to people he has trained.
Conference Speaker Examples
'Inspiring and innovative, Frank's conference talks and all day regional conference seminars have been winning rave reviews from BIGGA members for years and he continues to provide conference planners with a wide range of topics and treatments to entertain and educate BIGGA members', said BIGGA Chief Executive John Pemberton. To learn more about BIGGA visit
www.bigga.org.uk
For a look at how individual BIGGA delegates have reacted to my work check out my
testimonials
page.

© 2020 Frank Newberry.
All rights reserved. This material may not be copied published to other media or rewritten in any form without written permission. Use of this site signifies your agreement to the
terms of use.
...