There are more Case Studies if you click on the link above.
Korg UK were keen to enhance their customer contact skills. After diagnostic work intensive training was given to management and staff. Customers noticed immediately and the company recently won special mention for its Customer Service in a Business Awards scheme.
Korg UK is one of the UK's leading suppliers of professional standard musical instrument brands, including Korg Keyboards, Vox amplifiers, Takamine guitars, Jupiter Brass and Woodwind, and Mapex drums. Based in Milton Keynes, Korg supply top musicians, studios, DJ's and music retailers throughout the UK and Eire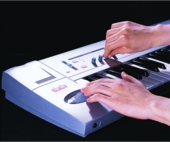 Giving excellent support to a network of dealers requires a high level of telephone skills as well as a full understanding of customer service by the whole company. Customer service can be let down by one person doing one thing wrong anywhere in the company. Korg UK wanted its entire staff to understand the importance of what they do in the context of serving the customer.
Korg invited Frank Newberry to meet their management team to discuss training for customer facing staff and managers. After this meeting Frank began a diagnostic programme including 'mystery shopper' telephone calls to staff and managers and visits to customers. Armed with information on how Korg actually came across to customers, Frank then designed and ran a number of intensive and highly motivational training events for Korg. This had an immediate positive effect and Frank reinforced this with more 'mystery shopper' telephone calls and feedback sessions to the management team.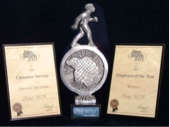 "Everyone benefited from the training course and we will be running refreshers in the future to maintain the new skills acquired" said Managing Director Rob Castle. "Our customer satisfaction measures increased and we have all become much more aware of the effect on the customer of our actions" Korg UK was recently awarded the "Employer of the Year" in a recent Business Awards Scheme. They also received a "Special Mention" in the Customer Service category. "This award is a credit to the excellent team we have here" said Castle. "We get many compliments about our service and it is good to receive some recognition following our training with Frank!"


Korg UK Website
For a look at how individual delegates have reacted to my work check out my
testimonials
page.

© 2020 Frank Newberry.
All rights reserved. This material may not be copied published to other media or rewritten in any form without written permission. Use of this site signifies your agreement to the
terms of use.
...