The advantage with regularly updated, readymade courses like these, is that they are QUICK, EASY and GOOD!
Quick to set up - all the handouts and pre-course work are on the shelf and ready to go.

Easy to arrange - to suit you, either on your own premises or at your preferred venue.

Good - honed to the highest specification, and proven to be successful.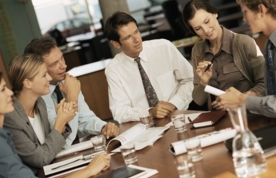 Assertiveness at Work
Communication Skills
Delegation
Goal Setting
Interviewing Techniques (Recruitment / Selection / Appraisal / Discipline etc)
Introduction to Project Management
Memory Skills
Minute Writing Skills
New Manager Training
New Supervisor Training
Presentation Skills and Conference Speaking Skills
Speech Making (Formal - weddings, and informal - team talks)
Stress Management
Telephone Techniques (Advanced) & 'Phone Rage'
Time Management and Personal Organisation
Coaching Skills
Counselling Skills for Managers
Customer Handling Skills
Customer Service Skills
Dealing with Difficult People
Image and Impression Management
Improving Staff Performance
Negotiating Skills
Performance Appraisal
Taking Corrective Action with Individuals
Training the Trainer

Discipline at Work
Facilitation Skills
Giving Bad News
High Impact Presentations
Leading Teams
Managing Attendance
Managing Meetings
Negotiating in Teams
Team Building
Team Building (and Team Working)

Consulting Skills
Managing Change
Managing Learning
Problem Solving (Creative and Systematic)
Word of Mouth Marketing

Sometimes an 'off-the-shelf' solution is not appropriate and so a specific or customised design can be put together, with full management consultation, to meet the needs of clients. I am a firm believer in practical, enjoyable and commonsense training that is backed up by my personal guarantee.

Customised Courses
Course durations vary but most are one day or two day events.

© 2020 Frank Newberry.
All rights reserved. This material may not be copied published to other media or rewritten in any form without written permission. Use of this site signifies your agreement to the
terms of use.
...